Fall & Winter Cleaning Guide 2023
Fall and winter are right around the corner, and the time has come to bring out your coats, scarves and jackets. Because we don't wear our heavier and warmer garments year round, they can be covered in dust and other odors throughout the months. So, prepare for the cooler climate by getting your fall and winter clothing clean and tip-top shape.
Luckily, the Jack's Cleaners team is here for you. Here's our guide to keeping your warm garments in excellent condition through the year and ready when the temperatures drop.
Preparation & Storage
In order to save time and money, it's important to store your fall and winter clothing properly. Although just hanging them up or throwing them into a box may be a quick fix, it can cause more headaches when the time to bring them out comes. Improper storage can cause damages such as moths, odors and dust.
The first step is to make sure your coats, scarves, hats, gloves and boots are thoroughly washed and fully dried. The last thing you want to do is store dirty clothes, especially ones with stains as this can set them in further, or even permanently. In addition, moths are attracted to dirty clothes that are host to body oils, stains and food debris.
Pro Tip: Before storing your cool weather clothing, sift through them and see what you don't need anymore. There's no reason to keep garments that you won't wear as it'll just take up unnecessary space. We suggest donating them to a good cause!
So how do I store my fall and winter clothes? You have a few options depending on the type of garment. The goal is to keep your clothes protected at all times. Vacuum sealed bags and plastic bins with secure lids is a good start as they're great on space-saving. It's also a good way to ensure pets don't get into them and cause unwanted damage. Sealed bags and bins are great for synthetic items, such as ski pants or poly-filled coats.
What about hanging? Yes, you can hang your clothes! The general rule is: fold anything that could stretch or lose its shape when hung and hang anything that could wrinkle when folded. This is especially true for feather- and down-filled winter wear. If your coats and jackets have authentic feathers and down, always hang them up. Folding in a bin or vacuum sealed bag can severely damage the fill and destroy that precious Canada Goose coat. The idea is the same for any garment that is delicate.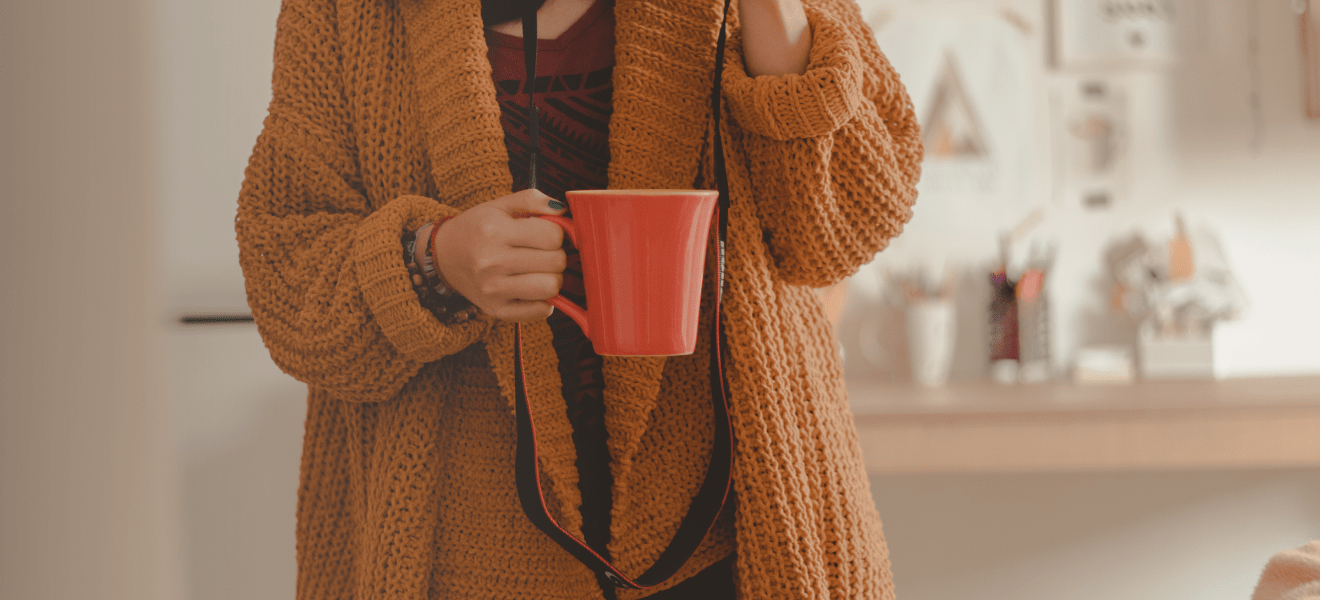 Wool Sweaters & Coats

If you own a wool, cashmere or angora sweater you need to know this! These types of sweaters should always be dry cleaned to avoid damage. If washed at home, you could run the risk of lost softness, fuzziness, accelerated aging and even worse; shrinkage.
To keep your favorite sweaters in good condition year after year, we highly suggest having them professionally dry cleaned twice a year. Once in the beginning of fall/winter and once again at the end of the season.
Raincoats & Outerwear
Heavy raincoats and outerwear don't need to be washed as often as sweaters, but it's a good idea to make sure they're clean. The best advice we can give you is to check the label before DIY washing or dropping it off at the cleaners.
Leather & Suede
We've gone into detail about leather care in the past, but here's a quick refresher course if you missed it:
The best way to ensure that your leather jacket stays soft, supple, smooth, and clean is to treat it like the valuable item that it is. The first step to attempting to clean anything is to always check the manufacturer's label. Oftentimes there are very specific instructions for the leather, such as how often you should condition the jacket. There's also some general guidelines that can help keep your leather jacket in good condition for years to come.
Hang Your Leather Jacket Correctly
Keep Your Jacket Away From Heat
Use a Leather Conditioner
Don't DIY Clean
Long story short, never attempt to clean your delicate leather and suede goods at home. It's always best to take them to a professional and keep
Shoes & Boots
Don't forget the shoes! Dust off your shoes and other cold weather shoes. Get your shoes and boots shined up with a home shoe shine kit or bring it to us and we'll get your footwear looking like new.
Bottom Line

There it is, Jack's Cleaners guide to storing, prepping and cleaning your fall and winter wear. Remember, if you're unsure or ill-equipped, always consult with a professional.
If you have any questions, please feel free to give us a call at 626-797-7323, or stop by our store at 2465 E Washington Blvd, Pasadena, CA 91104 and we would be more than happy to answer any and all questions you may have!